After weeks of nominations, a week of voting, hours of counting, and maybe, eh, five to ten minutes of planning, the 2016 Arlong Park Awards have nearly come to an end and on the same night as the Oscars too. Neat!
I'd like to thank everybody involved; those nominated and doing the nominations, the voters, Jabra for providing the signatures for the winners, and the staff for providing this forum for us.
Without further ado, here's the winners..
The first category is about the actual content of the board.
A. Best Thread
! Smooth vs Crunchy peanut butter!
! Crunchy for sandwiches, smooth for crackers and cooking. What's to discuss?
B. Worst Thread
! Indecision 2016!
! Yeah, sorry about that.
C. Best Debate
! Naruto is objectively bad.
! Yes.
D. Funniest Post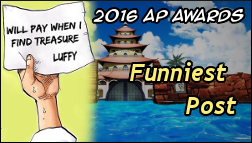 ! Alternative Straw Hats by Monkey King!
! I like to think this universe exists somewhere and One Piece is well-regarded as the most melancholy series ever made.
E. Best Moment of the Board
! Blech is finally over! We're free!
! An era has passed and we'll hopefully never see its like again.
F. Best Tournament Campaign
! Bond en Avant's hilarious campaigns for the Weatheria Wizards!
! Those were a consistent highlight of every match those guys were involved in.
And now we come to the Awards for the people who make up this place.
G. Most Memorable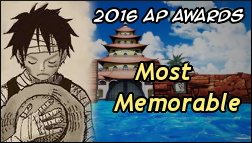 ! Femme!
H. Most Profoundly Quotable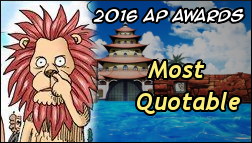 ! Robby!
I. Most Articulate Writer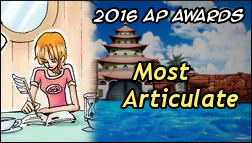 ! Count Mario!
J. Most Intelligent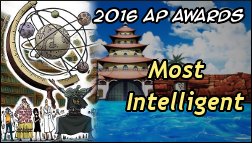 ! Daz!
K. Most Dedicated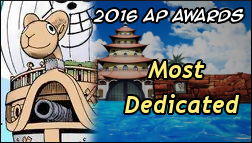 ! Galaxy9000!
L. Most Original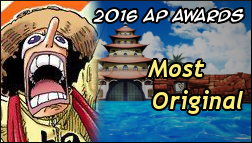 ! Huschel!
M. Best New Member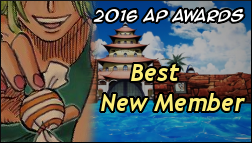 ! Count Mario!
N. Favorite Moderator (Global or Section) or Administrator.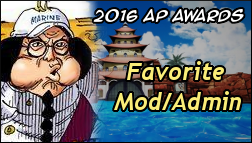 ! Femme!
Man, after a while spoiler stops looking like a word.
O. Friendliest Member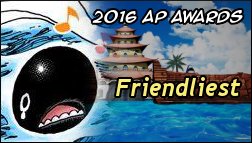 ! The Tenth Straw Hat!
P. Funniest Member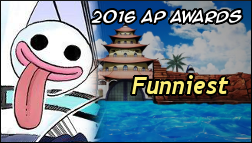 ! Wagomu!
Q. Best Researcher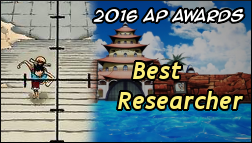 ! sandman!
R. Best Forum Gamer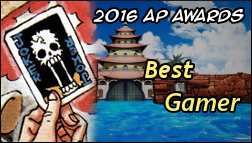 ! Wooden_Giraffe!
S. Pirate King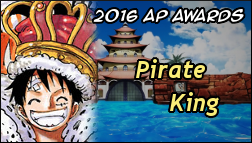 ! Monkey King!
T. Pirate Queen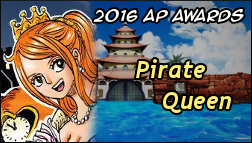 ! BellisarioFaith!
U. Best Artist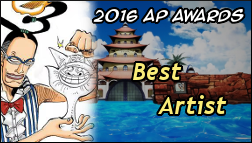 ! Skadi!
And now we shift to the Awards for the artistic expressions of this place and its members.
V. Best Fanart
! Sunny-Shogun: Franky's Future Masterpiece by Roronoa Zacho!
W. Best Avatar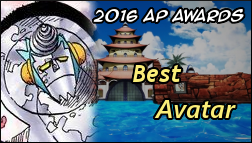 ! Cavendish Banana!
X. Best Signature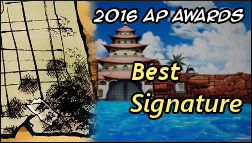 ! Kaido King of the Beasts!
And now, the main focus of the board: One Piece and some other things.
Y. One Piece - Best Moment
! Zunisha annihilates Jack's fleet!
Z. One Piece - Worst Moment
! Understood (anime); voice not impressive enough!
Surprisingly the anime manages to not carry off something the manga could.
AA. Least Sensible Toriko Moment
! On second thought, let's skip those other continents. They're silly places.
The lightspeed approach to finishing off Acacia's Full Course was really the first time you could sense the series was ending.
BB. Worst Bleach Moment
! I can see the future and could totally prevent you from defeating m- and now I'm dead.
CC. WHAT THE HELL DID YOU JUST SAY ABOUT MY CATEGORY?!
! True Man's World!
DD. Best Series
! Jojo's Bizarre Adventure!
EE. Worst Seri- Okay, yeah, it's Bleach.
! What a shock! Never again though; just let that sink in!
Let's not forget the other sections and the General Discussion Awards.
FF. Movie of the Year - Best
! Deadpool!
GG. Movie of the Year - Worst
! Batman vs. Superman!
! The difference between giving people what they want and not doing that is what determined these categories.
HH. Animated Film of the Year
! Zootopia!
II. Best Game of the Year
! Pokemon: Sun and Moon!
JJ. Worst Game of the Year
! No Man's Sky!
! Speaking of the difference between giving people what they want and not doing that…
Bonus Categories
KK. All-Time Best Moment of Bleach
! Mayuri Shenanigans. All of them.
LL. All-Time Worst Moment of Bleach
! The Heart!
MM. All-Time Best Moment of Toriko
! Toriko vs Tommyrod!
NN. All-Time Worst Moment of Toriko
! Toriko… IN SPAAAAAACE!!! The End.
OO. The First Annual C. Yasutora Sado Award for Outstanding Achievements in the Field of Mediocrity:
! Tatsuki Arisawa!
Remember her? Kubo didn't despite giving her a ton of development and hints that there was something going on with her early on! Bleach was really front-loaded when it comes to the fond memories people have of it.
! And, yes, that award was going to be named after Chad either way. It's actually a lot funnier like this though so I'm glad voters went that route.
PP. Best Forum Game
! One Piece Survivor 6: Arlong Park!
Once again, thanks to everybody involved and we'll see you next time!