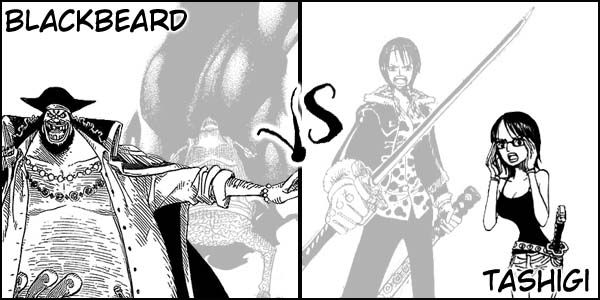 Sure, there was a match going on the arena, but two things:
The match is question was a total snorefest.
Marshall D. Teach follows no man's schedule but his own. He shows up where he wants, when he wants.
So we find Blackbeard Teach wandering along the concourse in search of the nearest concession stand. He is in a particularly good mood today as evidenced by the fact that he was humming and singing to himself.
"Hmmhmhmmm… northern islands are icy coooooooold...
Make a man feel frail and oooooooold... ZEHAHAHAHuuuh?"
Teach stopped and stared at an unusual sight: two frantically waving feet and legs sticking out of a rather large trashcan. Since he was in a good mood, he decided to investigate. He stuck out one massive hand and pulled the foot up as high as he could and looked the small woman who was connected to his foot in the eyes.
"Heyya, little sis. A trash can ain't the place for a pretty woman! ZEHAHAHAHAHAHA!" He sat her down on the ground before him.
Tashigi stood and knocked some of the dirt and trash off of her shirt as she began to explan her situation. "Oh, well, I just saw somebody throw a book in the trash that I had to have. It's about the swordsman who forged the Shodai-Kitetsu and the trouble that he had in life after the sword became known as a cursed blade. I can't believe that somebody would just throw away a perfectly good book. I just fell into the trash can though... that seems to happen a lot to me for some reason."
"Hmm" said Teach. He didn't really care, but it seemed like the kind of noise that he should be making right now. He was beginning to wander on off down the concourse when she spoke again. "Can you help me find my glasses?" asked Tashigi. "I seem to have lost them again."
Teach shrugged and began to dig through the trash can. "So you like swords, eh? Not my thing myself."
"I love swords! It's my greatest dream to find all of the great swords in the hands of evil people and keep them from doing any more harm!"
"ZEHAHAHAHAHA! Dreams are a great thing to have; keep it up!" Teach stopped digging through the trash and handed Tashigi her glasses.
"Hey, thanks!" Tashigi exclaimed. She paused for a second. "It's hard though… a lot of them are in the hands of pirates and are scattered all over the place. I hate to think of them in the hands of such scum!"
"Hey, there ain't a thing wrong with bein' a pirate! I'm one myself!"
"What?!? I have to arrest you then! I hate to do it, but I have to!" Tashigi drew out Shigure and pointed it at Teach.
"ZEHAHAHAHAHAHA! You got guts, little sis! Let's see what you can do!"