This thread is going to be so dead. I'm not that big of a reviewer, but after writing whole darned reviews inside my head while playing video-games, I guess it won't hurt if I have a basic thread like this for whenever I'm in a review-y mood.
My first post is about the Young Marines cover of last December (chapter 691). I promised then that I'd post a huge text about my feelings and thoughts on it and I think it's no too late~
Couple of notes:
there's a slight amount of swearing. Not much, just a fuck here and there
before you ask, yes, I had a huge fangasm when I saw this picture. Which is funny considering how I encountered it. It was a Wednesday afternoon, and I forgot there was a new chapter out. I went onto Deviantart and there I saw that someone uploaded something about the marines. I clicked. At first, my brain couldn't even comprehend with what I was seeing. Then I rushed here and saw that it was real and went nuts~
I love Oda for this
everything I wrote down is mostly opinions
I sidetracked a few times to make up funny dialogues for fun (see T-Bone and Lacroix/Ronse)
any questions/comments are welcome!
[hide]There can be no question about it, Oda remembers. Oda remembers even the tiniest side-characters of his, be they named or unnamed. This, in itself, is a big deal. You try and recall hundreds of characters you made whose designs aren't always that unique and appear in two panels. Not that easy. Also, you have to consider that making a huge picture with a bunch of people in it can hardly be done well. Oda managed that, as our eyes travel across the whole thing, discovering characters all over the place. Of course the main ones, like Sengoku and Garp are highlighted by being relatively bigger.
Where to start, it is hard to say. I'll probably talk about most the characters, even if just a few words. Let me say some general stuff. First of all, it's funny to see all these characters in standard marine outfits. Secondly, while I couldn't name or identify more characters than other people, I was able to find some relatively unique looking ones that didn't make it into this picture such as the three guys from ch. 548.

Let's see… Ah yes, T-Bone.
He looks oddly normal compared to his older self, doesn't he, although he's still got the long neck, and overall long head. I was baffled to see him so innocent, so not zombie like. He didn't age well it seems. Something bothers me about this though; remember in the sea-train, when Corgi said T-Bone was a former knight? So what about it then? It can be that he was a knight during his early years (age 16-20) then something happened to the kingdom he served in and he decided to be a good little knight elsewhere in order to make this world more peaceful and gentle EVEN IF IT MEANS SACRIFICING HIS OWN BODY! I wonder how was his recruitment party.
-Hey, you look though, where do you come from?
-From Steak-kingdom.
-Ah, sounds neat. I came here so I could be a great hero like Garp! Why did you come?
-TO BRING PEACE TO THIS UNJUST WORLD!!!
-Crap, I almost had a shock…
-AH, YOU SPILLED SOME PUNCH ONTO YOUR UNIFORM! LET ME HELP! - tears some of his own clothes - Here, this should help.
T-Bone. A joy to paranoid people.
Now I should probably cover the most famous ones without any consideration of their current rank.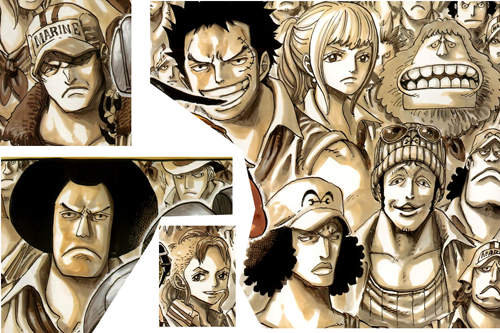 It's certainly good to see Bellemere. Also Saul. He seems the nervous type to me, at least judging from his face. He forms a neat trifecta with Ronse and Lacroix. I wonder if they knew each other. I wonder if Saul was in the Giant Squad. Hmm…
The Admirals are of course in the center (around Zephyr). Borsalino looks awfully laid back. What is he there for? It looks like he just does it just because: "Sure, sign me up dude, as long as I get free meals!". Shockingly enough, Kuzan looks the same. His jaw isn't quite like that, but everything is pretty much the same. What's with this guy? Maybe the ice-fruit? Hm… Sakazuki, the same crazy-angry dude as he is now. He's got a nice little coat there.
I'll be damned if Garp doesn't look like a mix between Luffy and Dragon. I love how much he's in contrast with Sengoku, who's all diplomatic and serious. Also Tsuru. They form and interesting trio. Time hasn't been kind to Tsuru though. Sengoku somehow managed pretty well (although now he's white haired), and Garp became that lovable grandpa he is today.
Bogart is there as well; another proof that Oda never forgets. He might not even be named Bogart, though he certainly gives of that vibe. Then again, Stainless gave off that "kaiser-moustache" vibe. It can't be only me who thinks Bogart fits more into the WG than the Marines. Fedora, suit and all. I wouldn't be surprised if the relationship between him and Garp turns out to be an amazing flashback.

Smoker, Hina, Drake and Sentomaru are there (of course). Smoker seems very obedient and "soldier-like" with that hair; we know how much of that is true… Drake already got his chin-scar and a rather stupid haircut. And an angry look. Was that a requirement? People either look angry or have a smile of some sort. With a few exceptions of course.
Vergo looks like a real douchebag. He also seems to have a brother on the right side of the picture.
Moving on, let's see some other captains.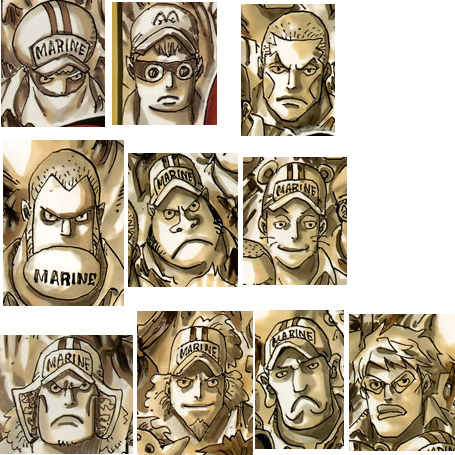 Shuu, Sharinguru and on the other side, Very-good who looks awfully lot like Franky. I love how T-Bone gets the regular, good ol' cap and Shuu gets that funny version of it. I wonder how he got recruited, did he have to put off that mask… Very-good shows a very good amount of dedication with printing "Marine" onto his chin. His afro is missing, though that thing's probably connected to his Balls-fruit. Nezumi looks like you standard push-over who tries to stay in the shadow of a big guy. Smug bastard. Morgan has a somewhat similar expression to Sakazuki and Stainless. One thing's for sure, Helmeppo didn't get his features. Gorilla earnt his name from the get-go. Marine parents tend to give their children… interesting names, to say the least. I'll come back to it later.
There's also Daigin and Sicily, newly named Marine characters. What's with these custom caps? Maybe it's just to make them easier to recognize… most likely.
Catacombo looks hilarious. Look at the shape of his whole head! Kadahl's glasses defy everything glasses stand for. How the hell do they work? And why does Kadahl do this face: :V.
Other notable characters:

Fullbody (he was asking for a beating the whole time with that face), Brandnew (wow, he lost a lot of hair from above his forehead. He looks kinda cool here, less like a broccoli), Ain and Bins (what a hairstyle. Probably requires a lot of hair-gel), the zombie marines (lol what's up with the bear over there), couple of pre-grandline, Enies-lobby and war chars, Pudding-pudding with a rather tame look compared to his later self, freaking Pandaman, that dude from Sengoku's office that once reported to him that WB is on the move, and a lot of dudes with knight-like helmets.
Now you know what's coming. Say it with me!
Giant Squad, yes! Oh, you meant Vice-Admirals? After this!
So yeah, giants. I love how Ronse is the only character here with pretty much all of his face covered. Only Bastille comes close to him and maybe Shu. Once again, probably for convenience's sake. He probably has the face of a great tactician. Not the brain though. Lacroix is probably seeing into the future right now, look at his expression: "Shit, I'll be slaughtered by a beast bigger than any giant. Well, at least Ronse will be there to lead the others….. RONSE YOU FUCKING MORON!"
"What up Croix? You make funny faces..."
"Nothing, nothing... just... nothing...."
There's samurai dude with shorter hair who looks really adorable, the reserve-cap-Luffy-punchbag guy (not the greatest mind), the only female giant ever in the series with a slightly different head-shape (she's rounder. I like it because he at least look a tad bit different that the other marine women), afro-dude who's like a giant Quasimodo (seriously. He's also one of those "pretty much looks the same" type of guys), hippo-guy with similar strange back (the hair looks funny for some reason) and finally catman who's probably the most adorable giant of all (the cathoodie and all).
Before you ask, I have absolutely no idea about the guy on the very left. He has a pretty distinctive look, but I'll be damned, I can't figure out who it is. I love how he's staring at me… I look at him the same way: "Who the hell are you?"
Also, I have a big question. Who the hell makes uniforms for giants?
Let's continue with the Vice-Admirals. I'm starting with John Giant to finish of the giants: he looks as he's staring at Strawberry's head or something that's written on Momonga's head.
Quickly go to the other side to Stainless and Mozambia. Stainless a.k.a. Kaisermoustache looks almost the same except for the moustache which is currently growing so it's alright. He's another "no-joke" character. Mozambia is strange though, what's with his face? "One day I'm gonna strangle this guy!" "I should probably sleep with the doors closed tonight"
Jumping back, we see Strawberry as he just can't help but draw attention. He block out half a dozen marines with his hair and he wears that headband is the strangest way possible. WEAR IT ON YOUR FOREHEAD YOU DU- wait, does that count as his forehead? That's his head alright but… Also, it looks like a tree growing out of his skull. Was he blonde back then I wonder... And same expression as always. Oda has a lot of fun with this character: first he gives him a very tall hat and the same poker-face for every panel, then names him Strawberry, then reveals that it's not just the hat that's tall but his hair, then it turns out to be his head. How does he sleep? How does he go through doors? How does he wash his hair? HOW DOES IT WORK??
Moving on, Momonga looks pissed as hell. He has already started growing that sweet mohawk of his. Yamakaji is as jolly as ever, although he lost his charm during the war. Cancer is nothing special, his eyes looks strange though. Comil's hair is FABULOUS! How the hell did he manage to loose half of it over the years. Probably the coffee addiction. Dalmation couldn't be taken seriously even back then. Puppy~
Onigumo and Doberman seem to be paired. Doberman only had one scar (later he has a whole collection, all of them x-shaped) and has two healthy eyes. He probably has an injure that made his left one blank (not sure how that works). We get to see Onigumo's eyes, which is a rare occasion. He also has one of those custom marine caps that resembles later headgear, in his case, his awesome helmet. His expression's interesting. Somewhat innocent and worried. He always seemed different than Doberman even with the "Absolute-justice-fanclub-membership" both have. Doberman's expression is the same strict look, and considering what we've seen from him, I figure he's not that much of a hard-ass when it comes to ABSOLUTEJUSTICE. Of course he wanted to parade Whitebeard's and Ace's heads on sticks, ordered his men to abandon their companions to continue fighting…. okay, he's a hardass, but not as much as Akainu and Onigumo who killed their own men just because they had a moment of weakness/question. He's essentially not a bad guy, just a little harsh. Contrary to Onigumo, who'd probably be the first to turn on "friendly-fire" in a shooting game.
"What the hell man I'm on your side!"
"You let the enemy escape!"
"Yeah, beause we will blow their asses off at the bridge!"
"With a moment of hesitation, how can you protect the futu- Onigumo was banned by Admin Aokiji; reason: ararara, you behave kids, don't interrupt my sleeping again."
Back onto more serious waters, looking at his younger self, I feel that Onigumo's not quite right in the head. He isn't that menacing; in fact, he looks as innocent as one can with that face. Look at Doberman and Akainu, who are all determined, slightly leaning forward, angrily staring at the camera. Onigumo seems somewhat shocked and out of place.
The last man standing is Bastille, also known as Horny, that big fellow who always appeared behind/near Strawberry in the War arc. Now, it's not a coincidence I left him for the end. It's THEORY TIME!
I've a reason to believe that if anyone, he's the new Admiral. Even though he appeared at the Marineford War, we literally didn't see him do anything, yet, we cannot say he's just one of those Vice-Admirals, who are just there to give orders and whatnot (like Stainless or Comil). He clearly has a "fighter aura" around him with the chains, mask and all. He doesn't even button his suit properly, he's no businessman. Basically what I'm trying to say is that Oda kept him in the dark whereas the others got some highlight here and there, even if just reaction shots (khrm_yamakaji_krhm).
MINOR SPOILERS FROM THE NEWEST MOVIE, FILM Z
! In the newest movie, Film Z, almost every Vice-Admiral makes an appearance. Now, we know it all takes place after the time-skip, meaning that if there's a new Admiral, it should've been visible, or at least hinted at. Every VA looks pretty much the same, but there was one who didn't even appear: Bastille. I don't think it's was a screw-up, a "whopsy-daisy we forgot that one bloke" moment on the film-makers part. They even put in Jonathan from G-8 with Kibin and Yukimura (two filler marines from Marineford), even Mozambia and Cancer who, I think, are among the forgettable Vice-Admirals. Heck, even the Giant Squad (half of it) was there! Anyway, Bastille didn't appear one way or the other and that can mean something.
One more thing about him that I found interesting is that his horns have a life of their own. No, really, look: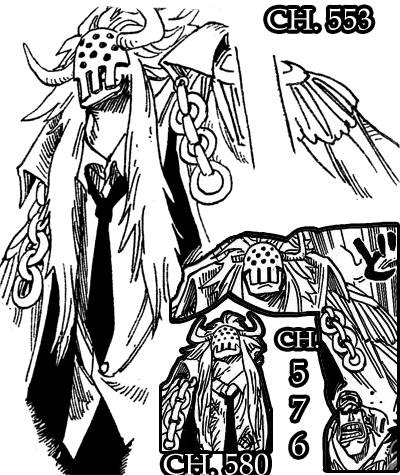 in chapter 553, he makes his appearance with two normal horns. In chapter 576, on page one, he's seen behind Strawberry with one of his horns torn off. Chapter 580 (the end of the war) features him with two "healthy" horns. At that time, I thought it was a simple mistake from Oda (like when he forgot Doberman's scars), but after seeing his younger self, I became curious. As you can see, it's like they're real, and growing with time. I don't think it's just a different mask, Ronse has the same one for example. Add the regenerating mask thingy, and bam, something's fishy here.
He also stands out with his height, though that can be totally irrelevant. But look at how huge he is![/hide]
I hope you've enjoyed my review. In addition, here are the notes I made on the day of it being "published" (it was rushed so it's full of mistakes):
! * lol T-bone has ears?
Doberman has two healthy eyes? Hmm.
Haahahaha, Femgiant is chubby
Tsuru was always so serious
John Giant grew a different chin
Lacroix just saw into the future lol
Comil is FABULOUS
Omg T-Bone
Momonga's pissed as hell
Yamakaji is chilling
What the fuck Strawberry?
LOL HORNY's horns actually grow, that explains it
Dalmatian is puppy
Sicily, where's yo moustache
The lack of Moustaches is disturbing
someone has beard, someone has just a little hair on his chin, hmrhrmr
Vergo looks like a douche
BOGART looks like a freakin' newbie
Garp doesn't give a damn
Sengoku's all work and no fun
Hina looks the same?
Everyone's so freakin' adorable. Everyone has the caps and the standard outfit.
WHERE'S TBONES HELMET?
Who makes those clothes for the giants?
Catman is adorable
Kaiser, I see you started growing your signature stache. Doberman, I see you didn't. Shame on you.
T-Bone has ears? And he looks nothing like a zombie. How old is the guy?
Lacroix is nervous. Don't be, the entrance exam will be the least of your worries.
Haha, Ronse, your hair is shorter. Everyone's hair is shorter. Hmrmr.
Strawberry wears a headband? At least wear it on your forehead you dou- wait that's still his forehead. It is. Strawberry is another species.
Samuraigiant, you stay behind, get used to it.
backwarscap giant's wondering what the future holds for him. A moustache,
What's up with Hippo over there?
Mozambia, stop staring at Stainless, he can't grow his awesome moustache like that,
Purin looks pretty tame.
Sakazuki, stop looking like your killing a chicken family
If these are like their first marine ID photos, then the photographer did a shitty job. They're looking in 20 different directions! LOOK INTO THE CAMERA DUMDUM!
What's up with those custom marine caps? Onigumo, Daigin? Like their helmets. But not for T-Bone
Nice going Shu, having an ID with only a quarter of your face
Momonga's angry because they made him ungrow his mohawk saying it's not sophisticated. He showed 'em years later. Suit+mohawk+moustache=sophisticated
Borsalino's a real creep
Kadar: O>O
Gorilla is like a gorilla. Nothing new.
Sicily, you look swell
Bellemere
Dalmatian: Are you kidding me?
Onigumo looks like he isn't fit for this duty. He's all like: "I don't want to kill people, I just want flowers." We saw how he turned out. "Shoot" "But sir-" shoots "How can you protect the flowers without killing who steps onto the grass?"
Yamakaji still doesn't have eyes. I bet he's just chilling. He fights with his eyes closed. And one of his hand in the pocket. The other one's holding a beer. And a porn magazine.
Yamakaji, your head's like a pear.
Doberman, how do you get X shaped scars? And what happened to your poor little eye?
Strawberry: having the same fucking expression since forever. I bet he had that when he was born. "Oh hey, it's a boy!" "Yeah, but what's with him?" "Let's name him Strawberry, he'll change his expression sooner or later…" 40 years later "I'm halfway done. I'll win this bet daddy. For the sake of Grandpa Blackcurrant!"
Borsalino: Hey, I'm just coming because I have nothing else to do, so you can just enlist me for whatever!
Ronse: Pokerface fukkers!
Tsuru: You're all a hundred years late.
Catacombo has funny ears.
Catman looks like a kid who's been picked on all the time. "I'll show them bastards!"
You didn't notice I left out number 8.
Go look for it!
It's in your hearts.
Bogart looks pro, not like a new recruit.
You got a nice coat there Akainu
I wonder if young T-Bone acted the same… "I WILL BRING PEACE TO THIS UNJUST WORLD!!!" "Ooookay, just sign here".