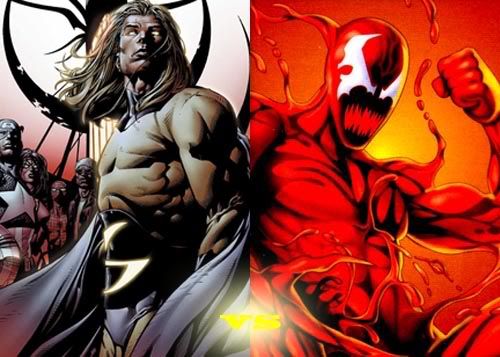 Roaming the streets, the symbiotic serial killer Carnage makes his rounds, killing anyone that lay in his path. Finally finding a victim under a car, he leaps towards the vehicle, throws it off of the victim, and uses a tendril to pick him up.
"Ohhhhhhhhhhhhhhoooooo hoooooooo!!! First blood o' the day!!"
"Please d-don't hurt me!!", pleaded the man.
"Hahahahahahahahahaha!! I'll tell ya, that line gets worn down everytime I hear it! Sweet dreams!~"
Carnage shapes his arm into a scythe and POW Carnage drops the victim, and flies back into a barber shop, destroying most of it. A golden figure steps onto the ground.
"Go," he says to the victim. "You're safe now."
The man runs off as far as he can get. Carnage ges out of the rubble. "Just WHO THE HE– Oh God." He catches a glimpse of him. That glorius golden light. It was indeed HIM. It was The Sentry.
Sentry gave Carnage a vicious stare. "I thought I killed you."
Carnage did not look pleased at all. In fact, somewhere within the beast stood an inkling of fear, the one thing Carnage is not familiar with at all. He shrugged it off and walked toward The Sentry. "Didn't yer mommy tell ya there's more than one way to skin a cat?"
"No matter. I'll make this quick."
"Bring it on, Goldenboy."
Carnage leapt up, tendrils aplenty. Sentry rushed towards him an unfathomable speed.
LET IT BEGIN.
---
I'm voting for The Sentry.
'Nuff said.