And I don't think we even have a Far Cry 3 thread…
Anyway, I really wish I could use autoplay on videos again.
..so just play this video below before reading any further.

Alright, now how much did you like Far Cry 3? Well that's fucking awesome!!!
Now take the exact same gameplay mechanics… shrink the map down, make it 14.99, remove the requirement of the original game disc, make the world a nuclear wasteland... make all the enemies and animals cyber themed, throw neon lights on like everything, add tons of 80s action movie references/homages/rip-offs... and inject it with humor and fun stupidity and you have...
...Far Cry 3: Blood Dragon!!!
Seriously guys, this is DLC done right. It's cheap… it's the length of most 60$ fps games nowadays. And it takes like, less than a half-hour to download. It's got the same awesome gameplay from the original... but the protagonist, Rex "Power" Colt, is more badass and powerful... the map cuts out most of the dead space you find in most open world games... which equals instant gratification. If the first 30 minutes of the game doesn't put a smile on your face or make you feel pumped to shoot some cyber soldiers... then something is wrong with you. Really.
This game includes:
-Robocop's pistol
-Cyber sharks
-One-liners
-A love interest
-Mutant Cassowaries
-Collectable VHS tapes
-Stealth kills
-Glowing ninja stars
-"Long Tall Sally" -by Little Richard
-Cyber tigers
-Cyber intel
-Anti-Drug awareness
-Tall grass
-Cyber snakes
-Michael Biehn's voice
-A sniper rifle named "Cobracon"
-A quad barreled shotgun
-Badass reload and weapons swap animations
-The ability to throw out a middle finger anytime!!
-The ability to spam the middle finger... which causes alternating double middle fingers!
-Cyber Boars
-Glowing neon cyber blood
-Motor Cycle helmets
-Hang gliders
-Giant glowing, cyber mega-dragons that shoot lasers from their eyes and eat people
-References
-Music by Power Glove
-A better soundtrack than Far Cry 3
-Bulging muscles
-Honor
-Patriotism
-No rape
-Cyber hearts
-Token Black sidekick who says stuff like "I got a baaaaaad feeling about this"
-A training montage
-Danger
-Upgrades
-Neon shit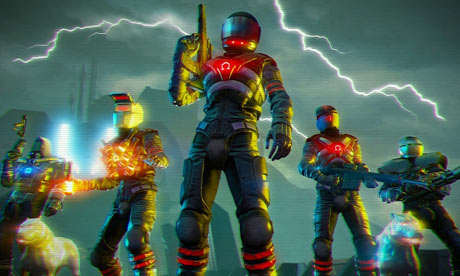 MARK IV STYLE MUTHAFUCKA!