Find out what who it is, rules follows
Rules:
NO DOUJINSHI PICTURES, no fanart, official only, this to be fair to everyone
Only from ONE Piece official merchanise, animation and manga, enjoy!
No bogus hints
The first person to post the FULL Picture as proof gets to go as the next game master, meaning, he/she gets to host a picture for the next round :). If the picture is very hard to get, just tell the answer of the picture is also possible. Like "Zoro's sword" "Nami's Bo"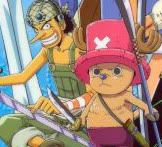 Hint: Which ONe Piece episode/movie is this from?