You may have noticed a certain cameo in this week's chapter. That would be of course Ryo-san, the ever scheming, otaku cop of Kochikame fame, who is celebrating 30th years of publication this year. A special tribute book was published this past week, with many of the big name authors coming together to pay homage to this long lasting series.
This was Oda's entry into the book: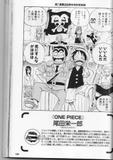 Anyone keen to translation or just give a summary of the message/comic?