This has been one unbelievable week for my town, my friend told me earlier in the week that a George Clooney movie was being filmed at my other friends house (I was actually over this house a few weeks ago to watch the Royal Rumble). I couldn't believe it until it was all over the newspapers, internet, and school. The only thing is, our "friend" was sort of being a dick, never invited us over to check it out.
Today I went up to the house with my dad. The cops were barricading it off, but my dad doesn't like to settle for that crap. We got my friend who lives right behind the house in which the movie was being shot, and we went through some backyards and got right on the set! Eventually, George went into his car for some warming up, I was about 12 feet away from him. It's amazing that we didn't get pushed out, maybe that's because we were in someone's yard and not in the way.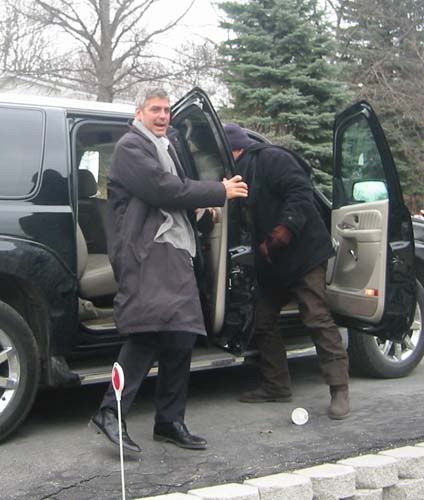 It was a pretty cool experience to see a movie being filmed, especially at a house you've been to a bunch of times. Clooney is a class act, really nice to the fans, I even got to talk to him. The movie's called "Michael Clayton."