I'm what's known as a "spriter", meaning I often work with game sprites. Amoung a number of things I do is make gifs (normally when I get bored). After finding some One Piece sprites a while ago I decided to make a few gifs.
Originally I wanted to make one gif with Luffy making that pose then going on to the attacks. However I felt I hadn't given myself enough room to do both so I split it into two.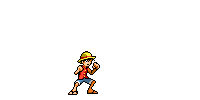 I'm quite pleased with how this one turned out.
Mods - If I've put this in the wrong forum, sorry. This seemed like the best place to put it.