First of all, I want this article can help, I tried to be very thorough about the epadas in One Piece. In the end my theory complete this thread. Good read.
Swords appear much in the world of One Piece, long guns are used by various civilizations. Among the swords there are MEITOU, called swords of excellence, is a group with a small number of swords, being all famous. Legendary swords are usually designated with other top quality.
I will show all kinds of swords in the series, but focusing only on the famous meitou.
Types of swords
Katana: Japanese sword used by samurai, single, curved blade, used by high-ranking Navy mainly by vice admirals.
Kogatana: Small version of a katana, resembling a knife. Mihawk wears a necklace like this, wrapped in a sheath that resembles a cross.
Daito Katana: Category sword between katanas, which has between 24 and 60 inches in a straight line, with the rest curve. All swords Zoro are included in this category. Also called modern katanas.
Nodachi: A Japanese sword in two hands, hard to handle, but extremely deadly. Trafalgar Law, Shiryu and Pika wield this kind of sword.
Cleaver: short and thick with slightly curved straight blade, used by low-ranking Navy and several pirates Sabre.
Sabre: Sword of single blade usually curved. It has a large hand guard and are long and thin. Shanks, Cavendish uses one of these and Vice Admiral Onigumo uses eight at the same time.
Kukri: A small sword, resembling a heavy knife, lying off the 20th, having unique advantages and a very thick column. Sarquiss wields a large and Helmeppo uses two Kukris to combat.
Shikomizue: Sword usually hidden in a cane that became popular when katanas were banned. Brook uses with its fencing style. Also resembles shirasaya, hidden wooden katanas in Saya as Admiral Issho and Kaku using a pair.
Zanbato: A curved, compared with the carrier, making it too heavy to be handled correctly particularly gigantic sword. Dracule Mihawk has Yoru which is quite long in length, being higher than 1.98 meters, and Mihawk Squard use a large katana that can qualify as a zanbato. Even among giants, they use swords that are larger than themselves, leave the regular humans alone Bastille wields a zanbato.
Although there is a wide variety of swords in terms of shapes and attributes, they are also classified by their qualities. The three classifications are known as:
Meito (名刀 literally means "Blade Famed") A sword that gained her own fame, that people would recognize it to see who wields.
Kokuto (黒 刀 literally means "Black Blade") A sword that has a blade of black and Yoru Shusui.
Yoto (妖刀 literally means "Cursed Blade") The sword that carries a curse and brings misfortune to its owners. All three generations of Kitetsu, Kikoku of Law and Shichiseiken (shown only in the film) are Yoto.
Among the Meitous have the Wazamono (Grade Swords)
The 12 Saijou Oo Wazamono MORE SWORDS OF SHARP SHARP WORLD
(Swords of highest degree): considered the best ever forged in history.
Kokuto Yoru (Night Black Sword) of Juraquille Mihawk.
Shodai Kitetsu As mentioned in the series, is the 1st generation of cursed retalhadeiras. Supposedly the sword that Gorousei have in your possession is one of Shodai Kitetsu with shirasaya appearance of katanas, the second appearance he is Uchiko polishing with an abrasive powder that cleans and maintains polishing.
The 21 Oo Wazamono MORE SHARP SWORDS WORLD
(Swords optimal degree): Swords just below the supreme.
Nidai Kitetsu As mentioned in the series, is the 2nd generation of cursed retalhadeiras.
Wadou Ichimonji (Straight Path to harmony) of Kuina passed to Roronoa Zoro's father Kuina after her death. Generally Zoro uses this sword in his mouth to use Santouryuu (three swords technique). And when will use ittouryu (sword technique) style he usually uses this Wadou. Its value exceeds one million berries.
Shuusui (Water clear autumn) Nickname "Blade black stud" this legendary sword served Ryuuma, the dragon slayer, after the defeat at Thriller bark Ryuuma passes his sword to Zoro, making sure she is in good hands.
The 50 Ryou Wazamono WELL SHARP SWORDS
(Swords skilled level): Swords below the optimal level.
Kashu (state flower) Tashigi won Mr.11 in a battle sword and cried after the battle, but it was never used.
Yubashiri (Running in the snow) Ippon-Matsu gave this sword to Roronoa Zoro after this show to be a true swordsman. His will was that the family heritage passed on. Zoro liked the sword because it is lightweight and easy to handle, but could not hold the desire to Ippon because Shuu sword destroyed by rust. Zoro buried this in Thriller bark.
Yamaoroshi belonging to Billy, the killer orcas, but after losing to Tashigi cried in Loguetown is the sword for you, but it was never used. (sword shown in a non-canonical story)
The Wazamono SHARP SWORDS
(Swords grade): Superior just ordinary swords. I will not put a title but I heard rumors that this degree are 80 swords.
Shigure (Rain Fall) of Tashigi
Sandai Kitestu (3rd generation of cursed retalhadeiras) of Roronoa Zoro. Despite being rare, all Kitetsu are feared for their patients, because they are cursed because of a legend that those who possess these swords have a tragic death. After all, Zoro proves to be an exception, placing his arm that his luck was greater than the curse.
General details of the Katana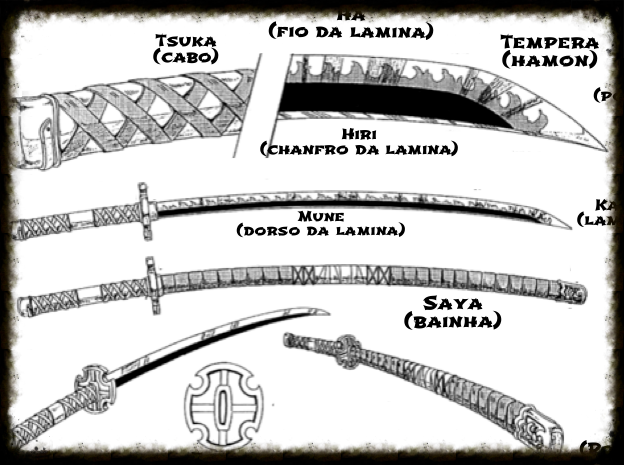 Toshinobu: It's the proper name of the sword as a whole, the tip of the blade to the handle end.
Kami: The blade itself. From the tip of the sword to where it fits into the cable.
Kissaki: Tip of the Sword
Hasaki or Ha: Part of the cutting blade; The edge.
Mekugi Ana: Hole where you insert the pin that holds the blade to the handle assembly and stabilizes the sword.
Hamon: Line temper the blade. Takes different shapes and designs according to the artisan and school.
Suguha (straight) ex: Wadou Ichimonji
Notare (wavy) ex: Yubashiri and Shuusui (more worked wavy)
Midare (irregular) ex: Sandai Kitetsu
Shinogi: line that appears between Hamon and Mune
Mune: Is the back of the blade
Tsuka: Is the cable itself
Tsuba: the guard is very used to identify the sword
Saya: Sheath Sword
An important detail is that Western swords are appreciated in full assembly (cable guard, sheath) and all his signature and recordings are on the blade. When we talk about Japanese swords, disregard their assembly (sheath, handle, guard). The appreciation of the Japanese sword relates only to its naked blade. The assembly of the Japanese sword can change from owner to owner or even be lost over the years, without this change the classification of the blade.
Source: www.niten.org.br / katana / guide
Style with swords
Mutoryu - Style without swords - is a related technique that Zoro was forced to submit Groggy, ball game during the event in the Davy Back Fight. Where he uses a technique he would use if you were with sword. What I define through Mutoryu is the legitimacy of a swordsman.
!

Ittoryu - Style of a sword - Could considered a basic sword technique, but only for Zoro is an optional technique because it uses more than a sword as usual. In the series which is more swordsmen are using this technique.
!
Nitoryu - Style two swords - Zoro is a technique that has developed since childhood before Kuina die and perfected along your journey, also when used in situations where his techniques have had to adapt, for one reason or another. Another that uses this style is well Kinemon samurai.
!
Santoryu - Style three swords - is a form of struggle that describes the use of three or katanas or swords, one in each hand and one in his mouth. There are many different techniques for this sword style, including high speed attacks, direct attacks and compressed air or missile attacks. So far the only user is Roronoa Zoro the swordsman belonging to the Straw Hat Band, Jigoro also used because it had the shadow of Zoro at Thriller Bark.
!
Yontoryu - Style Four Swords - Sword technique developed and used by Kaku. After consuming the Ushi Ushi no Mi: Model Giraffe Kaku can achieve more versatility with your Yontoryu style. Kaku achieves this by combining two katanas and their technical Rokushiki "Rankyaku" which creates wind shear is legs, causing them to have four-wire lâminhas.
!

Rokutoryu - Style with six swords - octopus merman Hatchan Technique. He has a great advantage to be able to deal with six swords with each weighing more than 300kg, thanks to its characteristics of being a merman and also a large force is needed to deal with swords, and even that heavy. In essence, Rokutoryu is a sword fighting technique that focuses on the strength of the user, along with the number of cutting edges, together with the ability to arms. All these factors make this style a great versatile and powerful style.
!
Hachitoryu - Style with eight swords - is the style of fighting used Hyouzou. It consists of eight swords handle simultaneously. To achieve this, Hyouzou receives one with each of his hands and the other six with its tentacles. Being a blue ring octopus is able to secrete a poison that sticks to swords, making them more deadly to the enemy that it could kill with a single cut. After an overdose of steroids, may be able to cut even iron with this technique.
!
Kyutoryu - Style with nine swords - is an addition to the main style of Zoro, Santoryu. In this technique only three swords are used, but the use of the spirit, its user, Zoro, can create an illusion of himself tripled, from using the equivalent power and control nine swords instead of three. Little is known about this fighting style, as seen only three times so far. But, if used in more extreme situations battles.
!
Theory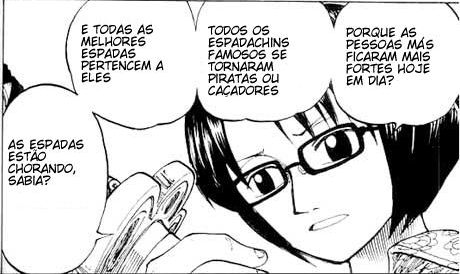 After this article on swords in a very general and free form, I need to share with you the spirit of the theory of swords. Seeking some facts from the manga, beginning with Tashigi said that in spades store loguetonw.
"The swords are crying," As a espadatard she was, knew perfectly well what was still talking over not only knew about them (swords), but was determined to rescue them. Anyway she has every technical knowledge about swords and the Ryuuma had and believe the samurai Wano also have knowledge about them. In chapter 688, Tashigi recognizes shusui only see Saya Tsuba and Sword Zoro.
In Baratie Mihawk said that "if a sword is not subtle is not strong enough," making it clear that the degrees of swords bigger, more subtle.
!
What differs from Zoro does not know technically as well with Tashigi, but he feels the sword, and feel is no swordsman who can do this unless legitimate.
Remember that he bet his arm saying that if it was not worthy of Kitetsu not deserve to be the greatest swordsman in the world, which is exactly what he wanted to be? that is what I believe about the curse of these swords in particular is that the carrier must honor the commitment we have with them and if some point in their lives deviate from this purpose they turn against the carrier. This makes it clear to me that Gorousei today honored his commitment to his sword. Conclusion Zoro will have a tragic end if you want to be the best in the world until the end of his life, and realize that Kitetsu is very pleased with its owner.
Another sword that shows this is the same feeling Shusui, Ryuuma to lose the duel with Zoro said "No doubt she will be happy to serve you as a master" At another moment in history speaks about the SUBJECT sword, a loaded verb action within the predicate "… happy to serve" which suggests a being / person.
!
Another moment I put this theory is based on a flashback reminiscent of Zoro's father Kuina said: "The strongest sword can protect and destroy whoever she wants - a sword that destroys everything it touches, is not a real sword for me. "
Notice that the master says "SHE destroys …" at this point of the sword is again a subject. The most important in this speech
is that the master says "... a sword that destroys everything it touches, is not a real sword for me" shows that each sword has a spirit with a different personality.
The Kitetsu is a sword that needs to be tamed, something that Zoro identified immediately when wielded first where Yubashiri was more obedient to the owner.
!

Theory of mind Swords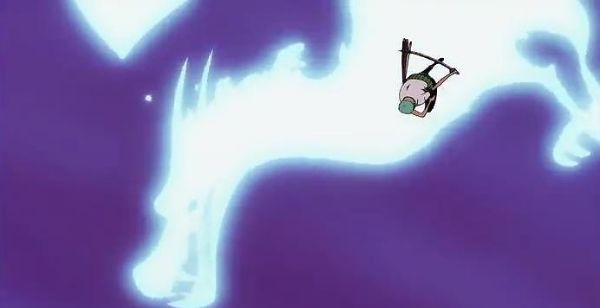 43 on SBS Oda says there are legends around the world about fairies ship, but Klabautermann legend in particular, comes from German sailors. In Japan, they call it "funadama" (spirit of the ship). It's easy, just think of it as the "guardian spirit of the ship." They believed that if a Klabautermann lived on the ship, the sailors would sail safely.
!
Complementing the above facts, and following line of reasoning suggests that Oda on "Gardião Spirit", is exactly what happens with swords. In several episodes Zoro embodies an animal or dragon seconds before the attack, not even further comprising Asura physically Kaku seconds before the attack saw the personification of style attack nine swords.
The idea that this spirit is revealed only to the true swordsman, and Zoro and Ryuuma. In Wano Kuni will have the answers to these questions.
The Mutoryu style (without swords) clearly shows that the spirit of the swordsman, Zoro invoked the spirit of the sword, without even touching it.
In theory I found the internet reported the following characteristics of Zoro's swords in shinsekainokokoro site, but found it a bit tricky to happen this, see below.
Wado Ichimonji: it evokes the spirit of animals through Kuina.
Sandai Kitetsu: it evokes the spirit of the curse.
Yubashiri: support.
Shusui: incorporates the ability to leverage its swords and other techniques.
But I have my opinion a little different about them.
About Wado Ichimonji, I believe she just embodies his spirit in the form of animals, because even before the other two his attacks always reveal the name of an animal, gorilla, lion, leopard, falcon, etc.. But do not evoke the spirit of Kuina at my point of view it would be very complicated. This sword was made to protect, see that when Zoro fighting Mihaw he wanted to protect his dream and his ego, where the Wado was wielded was to protect even against Mr Zoro 1 was determined to protect his captain and that city.
!
About Sandai Kitetsu, I see that even with the 3rd generation of retalhadeiras it carries immense power even without wield it. And I believe that the dragon flame that Zoro is the spirit of Kitetsu, regardless if it is in the hands or not, her for being "disobedient" means the owner must show that it is always greater than his sword, noting that this sword was made for kill. The style Ittoryu only three times, twice with this sword when he fights against Kuma, where instead of the wado Puchar uses Kitetsu. Desmetificando Zoro did not see any one opponent, but a soulless tyrant, so the idea here not only fight but to simply kill to protect. And so great was his desire to kill Kuma that Luffy offered in place so that this tyrant came to his captain, and the evocation of the coup had Wado (Leo) using filosfia "kill to protect." Another occasion was totally against Hody Jones intentionally to kill, Hody survived because of steroids
!

About Yubashiri is the sword that was made to fight, nothing more so the lightness of movements, and more subtle than Kitetsu. She always really gave support to fight Zoro needed, especially when his style was the Nitoryu, was with the philosophies hands "fight, kill if necessary", and the Wado always be in your mouth.
!
About Shusui, have not seen much about it but it fits the style fighting also see that when Zoro fighting Monet, he already knew his superiority as an opponent, and had nothing to protect because their nakamas were in another environment but wanted to give a moral to Tashigi, so he drew his Kitetsu not in combat but the Shusui if I were cursed Monet would be killed in that strike.
!
Just explaining the Asura I understand it was a possession of Kitetsu along with Zoro doing Wado three beings in one. The spirit of these two swords Zoro joined and it became clear that it was not just an illusion but a real possession.