So here we go. Four former champions are out, along with such a collection of long-time fan favourites as Urouge, Jabra and Zoro. Now the field is tightening, and we're bound to see more upsets (maybe more than Usopp losing to Zeff).
Eight matches, eight losers, eight winners set to contest to be the eighth champion, it's … The AP Character Tournament Fourth Round: The Eighth Finals! Anyway, I'm no good at making things exciting, so I'll just hand over to Gatz here. Don't worry, I'll make sure he's kind of unbiased.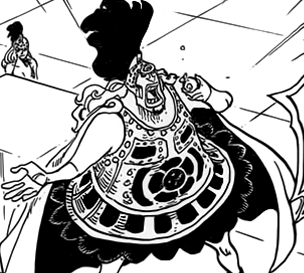 I have the matchups for the next round right here. But! Before that, let's hear from the losers from last round!
Gedatsu: Mmm … !!
Urouge: grin
Cavendish: Zzzzzzzzzz
What the hell! they're not saying anything. Okay, moving on, the next round's matchups!
In the first, it's a duel between veteran pirates! These tough old guys have lost a lot of flesh, but don't think too light of them! It's an old favourite against the upset of the year!
! Brook vs Zeff!!
Then in a duel of weirdness, that guy who I'm pretty sure is no longer human clashes with the guy who has always been above human! It's true pervert versus the true champion! It's …
!
ulp Did anyone else see that? … No? Err, right, the second match.
! Franky vs Satori!!
In the third match, this year's number one super rookie takes on the villain of the age! In a royal duel, it's the King of Birds and the King of Trolls!
! Doflamingo vs Bartolomeo!!
Then we light up the streets as revolutionaries go head to head! A match not to be missed, it's
! Sabo vs Robin!!
In the fifth match, two well-loved antagonists go … not quite one-to-one! It's
! Enel vs Moriah & Aphelandra!!
Then comes the duel of eternal cool guy and his fiery, overly passionate ally! It's the guy who seems to always need some rescuing against the guy whop seems to always need to rescue people! The sixth match is
! Law vs Sanji!!
Match seven is pits an old favourite against the second of this year's super rookies! A match to test any animal lover, I give you
! Crocodile vs Koala
And in the last match of the round, it's a rematch from last year! The road to the sun is a rocky one indeed; we finish with
! Luffy vs Jinbe!!
And those are the matchups! I'm fully supporting K–
Thanks Gatz.
Here's the summary:
! Match 1: Brook (93) vs (81) Zeff
Match 2: Franky (100) (71) vs (78) Satori (106) Hakuba
Match 3: Doflamingo (76) vs (131) Bartolomeo
Match 4: Sabo (95) vs (135) Robin
Match 5: Enel (110) vs (86) Moriah & Aphelandra
Match 6: Law (107) vs (113) Sanji
Match 7: Crocodile (98) vs (99) Koala (tiebreak)
Match 8: Luffy (93) vs (104) Jinbe