Alternate thread title ~ Western Comics for Manga Fans or: How I Learned To Stop Worrying and Love the Bomb
I have tried to get a discussion going about some of my favorite non cape comics in the normal Western Comics Thread a few times but to no avail. All I see in that threads are talks of Captain America and the X-Men and you know, that's cool and all, but at this moment in my life I don't really care very much about capes and tights on the printed page (save for Batman - Batman is perfect.)
…and honestly the world of western comics didn't interest me all that much when I thought of it as a superhero or GTFO kind of medium (and it's why I gravitated towards manga so readily – superficially, it has much more variety). Once I started finding great non-superhero comics the floodgates really opened and I entered a unique new world of really vivid, stylish and highly entertaining storytelling.
I am not sure if this constitutes its own thread but I hope we can get the ball rolling and have some nice discussion and recommendations. Maybe some of you guys are like how I was. Assuming and comics from the west are almost exclusively a superhero platform and maybe that isn't your thing either – I'm here to tell you that there is plenty of quality western comics that have nothing to do with the superhero genre.
Enough of my ranting, here are some of my favorites. I hope you guys will pick up some of these if you get a chance.
Chew ~ My absolute favorite western comics. It takes place in a world where chicken has been outlawed and is valued highly on the black market. Tony Chu is a Cibopath, which basically means whatever he eats he has the ability to see the life of that object pass before his eyes. He eats an apple and he knows what tree it came from and what pesticides were used on it. He is a special detective and is basically forced to eat loads of disgusting things in order to solve crimes. It has everything. Kung Fu Orson Welles. A sexually ambiguous cyborg partner. A wide array of food related powers (there is a world class chef who can't talk and can only communicate by having people eat his food). Family drama. A Reservoir Dogs parody. A killer chicken names Poyo. The art is unique and energetic. Seriously, read this shit!
The Goon ~ My other favorite western comic. It's basically about a crime boss and his sadistic best friend kicking the piss out of zombies, fishpeople, giant squids (and that's only the first two chapters) etcetcetc…and it never slows down from there. It has beautiful art and loads of crude humor. Highly recommended.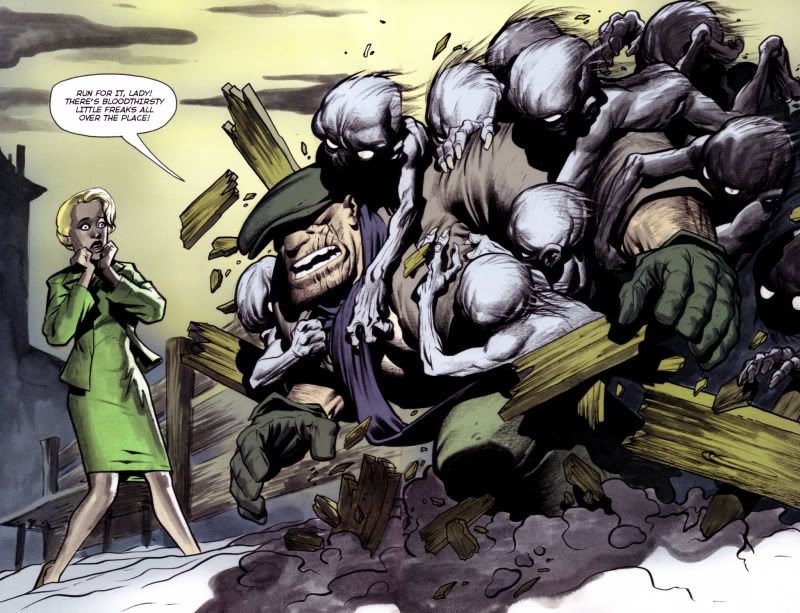 Atomic Robo ~ Robo is Nikola Tesla greatest creation. He jumps threw time (narrative wise – not Tardis wise) and fights big bads of all types. It is a bit in the vein of The Goon/Hellboy but Robo the character is unique and likeable enough that I definitely think this is worth a read.
Bone ~ Jeff Smith's heralded classic is deserving of its acclaim. The Bone family is a likeable bunch and the scale of the narrative is impressive enough that it often drawn comparison to Lord of the Rings. The art is wonderful. Also Dragons.
![](http://collider.com/wp-content/image-base/Clubhouse/B/Bone/Bone_comic_book (1).jpg)
Calvin and Hobbes ~ Just started reading this a few days ago. I am sure most of you have glanced this once or twice as it is pretty popular. From what I have read it's mostly just a collection of very short comic strips with no building narrative. I wouldn't call this a hindrance as I enjoy it all the same. Charming is the best word I can think of to describe this series. The art, the characters, the humor, the satire – all charming.
Here is my favorite bit so far:
"Hobbes, what do you think happens when we die?"
"I think we play saxophone for an all-girl cabaret in New Orleans."
"So you believe in heaven?"
"Call it what you like."
Casanova ~ The story of Casanova Quinn, master thief. It's cool, sexy, sleek and various other clichés – all the while remaining original and trippy. The visuals add all lot to the energy of the series and it can become confusion at times but, damn, is it cool.
Those are my favorites so far. Here is some other I either also enjoy (though I have't made a fully formed opinion on them yet) or am going to check out soon because they come highly recommended.
*Blankets (beautiful as far as I've read)
*Cowboy Ninja Viking
*Hellboy (Good. But perhaps a bit overhyped as far as I've read)
*Incognito
*Johnny the Homicidal Maniac
*I Kill Giants
*Lady Meckanika
*Locke and Key
*Maus (very good from what I've read so far.)
*Mouse Guard (Beautiful art. But the narrative hasn't really grabbed me yet.)
*Preacher
*Proof
*Scalped
*Scarlet
*Scud: The Disposable Assassin
*Tank Girl
*Transmetropolitan
*The Umbrella Academy (perhaps it's a little too close to the superhero genre for this thread)
*The Walking Dead