i draw. most of the people here knows that.
and no, i am not an art major. so i've never had any lessons in human anatomy or anything like that. good thing is, i don't have to sit in a room staring at naked old man for hours, drawing every single wrinkle he's got.
but i like to draw faces. and fingers. facial expressions are something that i alwys try to put in my drawings, because they convey emotions. there is one person i consider as a god in terms of comic facial expression, and that is the one and only EIICHIRO ODA. i don't have a model, or anyone i can ask to pose for me, so whenever i need a reference, i look at myself in a mirror, and make the expressions i need to make. i am my own model since i am too cheap to pay anyone else.
now, regarding franky: i noticed something that maybe you've all noticed, but don't find it interesting as much as i do. FRANKY'S FACE MUSCLES ARE… WELL, RETARDED. or should i say, disfunctional. check out these snapshots: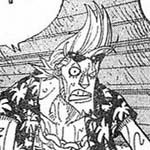 notice how in all of them one of his eye is bigger than the other. sure, something like that is normal in a manga, or anything cartoony, really, but notice that the BIGGER EYE IS ON THE SIDE OF THE FACE WHERE HIS CHEEK MUSCLES ARE SUPPOSED TO BE LIFTED UP. and this is, not physically possible. at least not physically possible for me, whenever i tried to mimic that expression in front of a mirror. try it. lift up one side of your upper lip, and look in the mirror which one of your eye is bigger than the other. unless your muscles are specially trained, or you're just unique, there is no way that the eye on the same side can be bigger than the other one. remember, you have to LIFT UP ONE SIDE OF UPPER LIP, NOT LOWER DOWN ONE SIDE OF BOTTOM LIP. if you do the latter, of course it's somewhat possible.
don't get what i'm trying to say? here's a drawing to help you out:
so now you're asking: what, are you trying to diss oda? no. not at all. this finding makes me kneel even lower to him for his majesty. i do not know, until oda answers it himself, whether he did this INTENTIONALLY, knowing that such a trait is not possible in a normal human being but franky can do it because he is a CYBORG, or UNINTENTIONALLY, because he just wants to mess around with franky's face.
but considering that the bigger eye has always been found (at least from the past 10 chapters that i currently have in my laptop) to be on the side where his cheek muscles are supposed to be lifted up, i can safely say that he did this intentionally, hence justifying my claim earlier that oda is a god of comic facial expression. if you guys can check out the chapters before 361 (i only have 361 and up) and find a picture where franky's eye does not bulge out this way, please, do show it.
also, i have not done this research yet, but i do NOT think that oda makes this facial expression (one eye bigger than the other, on the side where it's supposed to be smaller) on anyone else throughout the entire history of one piece. i might be wrong, so if you find this phenomena on anyone else other than franky, please post it as well.
thank you for reading this long-ass post.