Upon her last visit to her O-Jisan and cousins' abode, my daughter discovered the joys of the J-Pop group Arashi and their new hit single, "To be Free" (available for your listening pleasure at http://video.japanesejunction.com/videos/4248 ) She would like to get an MP3 download, and of course there are dozens of places to get it illegally for free, but she would really like to support the band and pay for it all legit style and everything (I'm so proud :happy:). Anyone know a legit place to d/l the song? I found a place or two, but I'm reluctant to imput payment info on a site I don't know, yk? FTR I-Tunes isn't MP3, and I am not savy enough to know how to convert an MP4 file to MP3, so…
The second request if for my son, who is a dyed in the wool DB/DBZ fan, now. He was looking things up on YouTube, found some crazed maniac fan (I bet it's one of you, lol! ETA--Oops, I think this could sound offensive, sorry. FTR This is not meant to be an insult--considering the amount of time I spend on OP, I have no room to judge, LOL) on there who seems to own about everything that was ever made for DB and DBZ in the way of figures and a few other things.
I realize if this were possible in all probability you'd all want it for yourselves, (after all they are "Over 9000!" aren't they?) (eta an explanation since that came out sounding offensive to me, too, sorry) so seems like a good vendor would have been mentioned somewhere on the forums before now and I didn't find anything with a search, but I told him I'd ask, so I am. One of the items this YouTube guy had was an item that came as a promotional gift with the Dragon Box Movie Collection in Japan. They are the "Dragon Ball Scouter" walkie talkie toys. They actually have antennea and microphones and the works, come as a pair with one green and one red, and are exhorbitantly expensive so far on E-Bay. (Last pair we found was US$399, not including shipping).
Here's a couple pics: The box: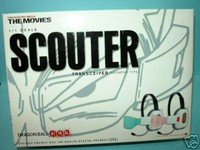 Inside the box:
The kids' been working all summer watching vacationing friends' animals, but needless to say he won't have that much to spend by the end, and we are not, at this moment, in any sort of position to make up the remainder, even if I were so inclined to spend that much for one toy, no matter how cool…
Anyway, anyone seen these things somewhere else more reasonably priced?
Anyway, sorry to trouble you, and Thanks in advance to anyone who can help with either request.