When you think of old school video game toons, the first thing that pops to mind is stuff like Super Mario Super Show, Sonic, (When Urkle did his voice) Pac-Man, and the countless other spin-offs to Super Mario. One that's perhaps the most underrated, and most unknown is the Captain N series. You may have heard about him, or may not. Chances are unless your in your early 20's, or had any previous memories of 1989, you haven't. Here is some breif info on the unsung hero's of Captain N…
The shows orgin starts out with a young, high school hero, type named Kevin Keene, and his dog Duke. Basically, the goon's playing Punch-Out!!, and instantly both are sucked into the T.V, and crash land ass first in "Videoland" (a-la Monster Rancher.) Kevin plays the played out role of "the chosen one" thought to be the best video game player. If I can get sidetracked a second, this guy was having trouble with King Hippo from Punch Out!! He's struggling with the easiest villan in the game, and they dub him a game master?!? Lucky schmo. Back on track, anyways Kevin, and his new found friends Simon Belmount (Castlevania), Megaman (Megaman series), Kid Icarus (Kid Icarus), and Princess Lana, go around thwarting the the evil plans of Mother Brain (Metroid), and her goons from taking over video land. Mother Brains usual cronies are Eggplant Wizard (Kid Icarus), and that fat sack of royal shit, King Hippo (Punch Out). If they were going to pick an enemy from Punch Out why not someone stronger? Out of people Like Mr. Dream, Soda Popinsky, and Bull Bill, they pick the guy who's shorts fall off when you hit his gut. There are alot of cameo apperances from other stars like Link (Legend of Zelda), Dr Wily (Megaman) Dracula (Castlevania). Mix it together, and you have a kick ass 30 min cartoon show
It sounds like an acid trip for Nintendo enthusiasts, but had to be if not the best video game toons out there. Episodes online are rare so I'll post a few links to save your lazy asses the trouble.
http://www.classicgaming.com/castlevania/f…s/captainn.html
Planet NES's episodes, sadly are almost unwatchable, but tolerable. Classic Gamings episodes are great condition.
I will warn you. The characters share almost little, or no resemblence to their video game counter parts. Simon Belmont is no longer a bad-ass, and is a narcassictic chicken at times. Megaman (my favorite) is 2'3, Green, and sounds like Froggy from The Little Rascals. If your a hardcore Nintendo freak you'll have a great time with Captain N. If not…tough, but still fun to watch for cheap laughs.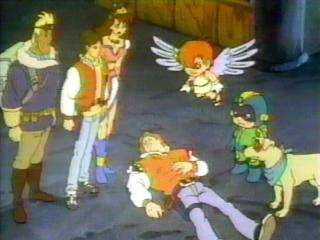 (left to right) Simon Belmont, Kevin Keene, Princess Lana, Kid Icarus, Megaman, Duke (don't know who the dead guy is)