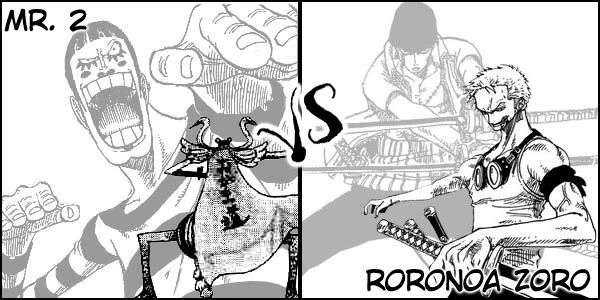 All knew how the last match was going to end. Jinbei blasted Cricket out of the area with his amazing merman character, giving the fans a spectacular finish to one of the lesser fights of the round. All people of Arlong Park were looking forward to the next match–Pirate Hunter Zoro VS. Mr. 2 Bon Clay. They clapped and cheered, standing up over their seats, as the officials all watched from their VIP seats, also excited about the match the come. The beloved announcer hopped back up to the platform, clearing his throat. "Victory goes to shichibukai Jinbei–which wasn't a shocker! And, now, everyone, it is time to announce the contestants for the next match."
The whole arena was suddenly silenced, tension filling the air as the next two contestants stepped into the arena. "In our left corner, we have Baroque Works Agent, Mr. 2 Bon Clay!" The announcer held out his arm to a man dressed in pink garments–ones he had originally worn during his Baroque days. With a few twirls and his trademark laugh, Bon Clay was on the platform, blowing kisses to the roaring audience.
"In our right corner, please welcome one of the Straw Hats, Pirate Hunter Zoro!" The cheers were loud for Zoro as well, even though some boos came out from every which way. Zoro angrily glared around, trying to find the source, but waved his hand–he would deal with them later. He hopped up onto the platform, taking his green bandana off his arm and tying around his head.
"Zoro-chan!" Bon Clay sang, waving to him. "I've missed you~"
Zoro stood there, glaring at him as the announcer hurried to get into cover. "T'ch. I never thought I'd see you again." He instantly reached for Wadou, sliding it out of its sheath. "Ah well–all I gotta' do is beat you to get one step closer to Mihawk, right?"
"Beat me?" Bon Clay asked, eyes widened. He laughed, putting a hand on his chest. "Zoro-chan is so cute~! He thinks he's going to beat me! But–no! You will not, for my okama kenpo is far greater than your three sword style~" He winked, blowing a kiss at the gaping swordsman.
" … I'm gonna kick your ass." Most should have expected that answer to come out of the green haired man. Wadou was placed into his mouth, then Zoro pulled out Sandai Kitetsu and Shuusui. He crossed his arms, entering the Oni Giri stance. "Hurry up and say begin, damn it!"
The announcer shrieked, holding his mic close to his chest. "Yes! Yes, and now, let the next match begin!"
Bon Clay put a hand to his cheek, grinning as his face turned into Zoro's. "I'm gonna kick your ass." He mimicked, pissing off the swordsman even further. Quickly, his face turned back to his own, and he began to spin before the swordsman charged at him–ready to cut him in two. "Okama Kenpo–"
"Oni–"
"GIRI!" "Urabure Swan Butōkai~!"
The next match has officially begun.