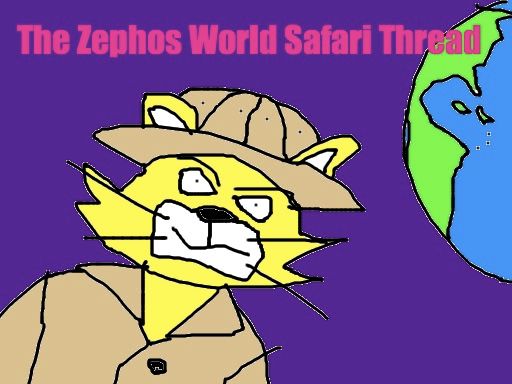 hS6ITIebMjs&autoplay=1
Welcome to the Zephos World Safari thread, wherein you gonna learn something. The focus of course is going to be on world affairs mixed with history. Though a mix of the two is what I'm finding ideal.
Have a part of the world you've always known about? But know nothing about? There will be pointers here.
Have a historical event you only vaguely understand? Well we'll have your back on that shit.
In the form of KICKASS LINKS TO GREAT DOCUMENTARIES.
Also basic posting discussions and Q&A. As with everything involving me, debate is encouraged.
Let's get this show on the road with some cool documentaries.
1. THE DEATH OF YUGOSLAVIA
Question. What the fuck was all that nonsense in the Balkans in the 90's?
Well enlighten yourself with this.
Dzs98u0m38g
This comes in four parts. With multiple segments within.
The main chapters are…
"Enter Nationalism"
"The Road to War"
"Wars of Independence"
"The Gates of Hell"
"A Safe Area"
"Pax Americana"
All are up on youtube for viewing, I'll start you off with the above.
What's great about this is that you get the words not from a bias perspective or a pointlessly American-centric view like some other Yugoslav War doc's I've seen. You get words straight from the presidents of the various republic's mouths. That's right! You get Milosevic's own words! And even that guy who was pretending to be a new age healer for years. The only flaw is it doesn't cover the Kosovo war. Otherwise. Superb. And the only good one I've found among a sea of heavy bias (you have to see the revisionist bullshit some Serb and far western-leftist dudes have released ont he subject).
2. Places That Don't Exist
I'm gonna cut to the chase here and get to my favorite guy in modern world affairs. Simon motherfucking Reeve.
This guy creates amazingly informative, evocative, beautiful, funny, distressing, and ultimately very human travelouges to all sorts of places around the world on behalf of the BBC.
These are truly great things, and he purposely goes to places most people know little about.
I picked as my example for one of his series, Places That Don't Exist. Which has Simon traveling to unofficial countries, seseccionist states.
Gets arrested by the Russian Army, becomes the ambassador of Kenya to Somalia, helps clean up land mines, and visits opposite sides of the same exact active battlefield.
His credibility factor? Well he sort of predicted Osama Bin Laden's rise into infamy before 9-11!
While the Taiwan episode is unavailable, the rest are up on the ol' Youtube.
Have at em'.
Transnitria/Transdniester (in Moldova)
UmrLbTHBV3s
South Ossetia (in Georgia)
4zWuu-F_bbY
Nagorno-Kharbarakh (in Azerbaijan/Armenia)
zTzMtfk3v80
Somaliland (in Somalia)
pMf89xPcKxg
If you like these, I HEAVILY reccomend Simon Reeve's other mini-series.
-Meet the Stans
-Tropic of Cancer
-Tropic of Capricorn
-Equator
-Explore! (even I haven't seen this one so good luck finding it)
This dude makes amazing shit and I'm looking forward to what he does next almost as much as what Oda does.
3. China, then and now
This will be in two parts for two different documentaries.
One that follows China from the 1900's when it was still a monarchy under the Qing dynasty, all the way through civil war, then their rocky wacky road through communism, to it's modern economic reforms toward capitalism and unfortunate lack of civil and political reforms.
This is one of the best historical documentaries I've seen as an aspiring History teacher, and it was in part responsible for the amazing display of debate now known infamously around here as the "China Thread".
This is as good as it gets.
China: A Century in Revolution
http://video.google.com/videoplay?docid=4000168643562229901#
This is also in several parts and I've only given you the first segment of the first part.
Here's the list of all chapters.
Part One: China in Revolution 1911–1949 (1989)
Part Two: The Mao Years 1949–1976 (1994)
Part Three: Born Under the Red Flag 1976–1997 (1997)
It's an amazing thing to watch gritty footage of near feudal looking imperial China to watching young Chinese driving around listening to Cyndi Lauper in less then 100 years.
–--
After you've done that, see where China is at now, not through the longscope of history or figures and statistics. Bu through following a number of modern Chinese people in the 00's.
http://www.pbs.org/wgbh/pages/frontline/youngchina/