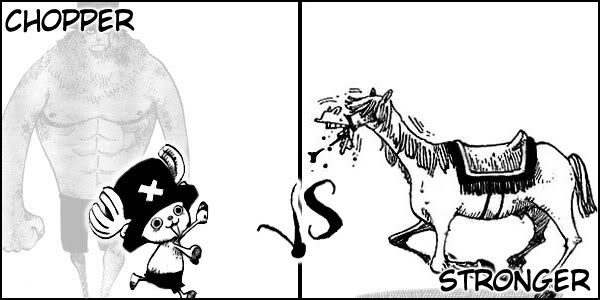 Tony Tony Chopper wandered along the concourse in search of the nearest concession stand. He wasn't quite sure how or why he had been elected to get snacks for the entire crew, but he figured he might as well make the best of it and do so in as cheerful a manner as possible. After a bit of thought, he decided to go ahead and memorize the list now.
"Well, this isn't too bad" he thought as he looked at it; right up until the rest of the list unfolded itself and began dragging along behind him. Even then, it wasn't quite as bad as it looked at first glance as the first few hundred things on there was the word MEAT written sloppily written over and over again.
While engrossed in the list that trailed several yards behind him, Chopper walked right into what he thought was a wall. Closer inspection revealed this wall to be a horse kneeling on the ground though it jerkily lurched to its feet and turned towards the tiny reindeer. Now, understand that this isn't any ordinary horse, but one roughly as tall as your average one story building. It's possible that it was staring blearily at him from underneath that shaggy blonder mop of hair, but it was impossible to tell.
The two regarded each other in silence for a brief moment before Chopper managed to collect himself. "Oh, hello!" said Chopper brightly. Stronger, whose owner obviously either had a gift for ironical statements or a much more discerning eye than the average person, gave a hacking cough in response. "AAAAAAAAGGGGHHHH!" screamed Chopper. "Blood! You're coughing up blood! We need a doctor! DOCTOR! Wait, I'm a doctor! Let me take a look at you."
As Chopper began his medical examination of the horse's mouth, he failed to notice that the massive beast was beginning to topple over once more.