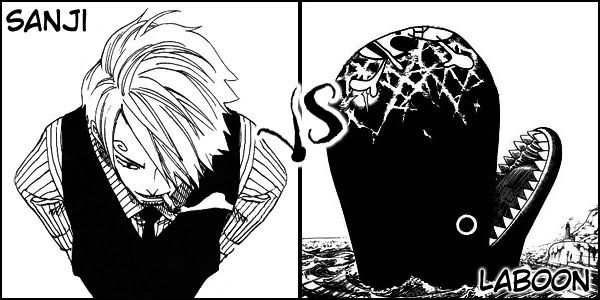 Sanji was positively delighted; all the months of planning, of scrimping and saving, of fighting morons on daily basis to keep food costs down, all of this had finally paid off. The items that he had ordered were finally arriving on a small supply boat that was even now closing in on him. No expense had been spared and it had taken him forever to track down some of the suppliers that would sell to a pirate, but it was all worth it now. The food that he was going to make would be his greatest culinary creations ever and would surely impress Nami-Swaaaaaan and Robin-Chwaaaaan enough that they wou-
The thought was cut off then as the grocerer's boat vanished in a spray of saltwater and was replaced by a remarkably self-satisfied whale that dwarfed the Thousand Sunny. The whale and the cook stared at each other for a moment.
Laboon happily sang out at him in greeting. "Buuuuuuuwwooooooooooohhhhh!" Sanji stood there in shock for another moment before recovering himself.
"A brief announcement. There has been a menu change; there will be four courses," said Sanji. "First course: Caribbean Beef Consommé featuring whale meat and train oil margarine."
It was then that Sanji paused for a brief second to light a cigarette before continuing.
"Second course: Whale carpaccio. Third course: Marinated whale with lime sauce." He blew a cloud of smoke into the air while considering the next portion of the meal. "Fourth course: Gelatine de baleine. I think you see where I'm going with this."
Laboon stared at him mournfully for a moment before spitting out the remnants of the supply boat as well as some very, very confused sailors. "Buuuuuuwooooooooooooo?"
"That's not good enough! ANTI-MANNERS KICK COURSE!" Sanji leaped into the air and then came crashing back down again after a beer can clocked him right between the eyes. "WHO THREW THAT?" The cook glanced around in every direction.
"Alright, where was I? Oh, yeah, ANTI-MANNER KICK-" Another beer can to the face. "I'M GONNA KILL WHOEVER IS DOING THAT!" Sanji stared in each direction for a few seconds. "ANTI-MANNER" Beer can to the face.. "ANTI-" Beer can to the face. "LOOK, JUST STOP I-" Beer can. "STOP-" Beer can to the face. "LISTEN, I-" This time, it was an anchor. The cook collapsed on the deck of the Thousand Sunny. While lying there, he began to have some very pleasant dreams about what would have happened had his evening turned out as originally intended.
Zoro and Crocus went back down the hatch on top of Laboon. "So, what are you going to do now?" "I think I'll take Laboon home, being out like this is too strenuous for him. You don't think the anchor was too much do you?" "Nah, he's too tough to let something like that hurt him. Better get Laboon out of here quick, when he wakes up, there's no telling what he'll do. This whale wouldn't stand a chance against him like that."
As Laboon sailed off into the distance, a happily dozing Sanji muttered "Mellorinnneee" to himself. Better days were surely ahead of him.
Victory to Sanji.