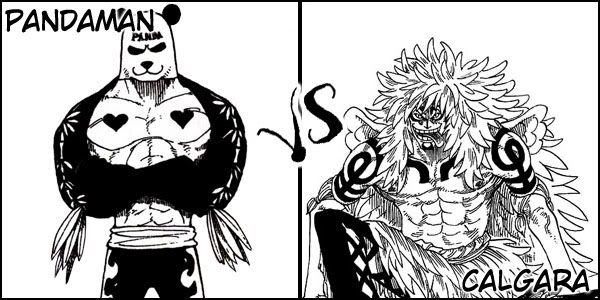 Calgara, Demon of Jaya, Hero of the Shandian Tribe, and Guardian of the Golden City was troubled. For months now, he had had recurring visions of a ghostly figure who popped up everywhere he turned, but vanished when confronted. Upon consulting with the village shaman, he had been told to seek out this foul creature and destroy it; for it must be an evil omen indeed if Calgara were seeing it everywhere when no one else could.
So he had set out from Jaya in a small boat with what few provisions he could fit in it and had searched those islands he encountered on the great sea. Now, after many months of searching, he had found his quarry, who even now was perched at the edge of a cliff and was gazing out over the ocean. The loathsome beast turned, saw him, and then issued an infuriating taunt by waving jauntily at him as if in great welcome. Calgara let loose a fearsome warcry and charged his tormentor.
Most people would be perturbed by the sight of a large man charging at them with a spear while screaming at the top of their lungs. Pandaman, on the other hand, was not bothered in the least; odd things happened to him on a regular basis. Besides, the only natural enemy of the Pandaman in the wild was the equally elusive Waldo, which was a timid creature by nature and not prone to attacking people in this fashion.
Furthermore, Pandaman did not owe money to the individual in question so he simply turned his attention elsewhere. Something was amiss… sunset behind him highlighting him nicely, waves crashing majesticly with the spray creating a rainbow around him... No, that was as it should be. What could it be?
Ah, there was the problem. Pandaman leaned over to pluck a solitary weed from the ground as it was spoiling the image. While he did so, he had the odd sensation that something had brushed past him followed by a loud splash moments later. Upon looking around, he saw nothing, shrugged and then did what was natural to him. He struck a pose.
VICTORY TO PANDAMAN.