Newest:
(Click for larger versions at my DA)
Updated commission for A!inaJames
Devon and the Gofer Boy
http://sephirona.deviantart.com
Hey :'D I'm new to this forum, but I do love seeing other One Piece fan-artists. There really aren't as many One Piece artists compared to other series'.
I recently got my own tablet around the last week of January, and since then I've been happily experimenting with Photoshop. :ninja: Here are some samples of my One Piece fan art, including some Work-in-Progresses. Bigger versions can be found at my DeviantART __ (Please buddy me if you have a DeviantART! I'll buddy you back. Looking for more OP fans on DA~)
Thanks for looking :'D Tatsumaki Zoro (click for bigger DA version)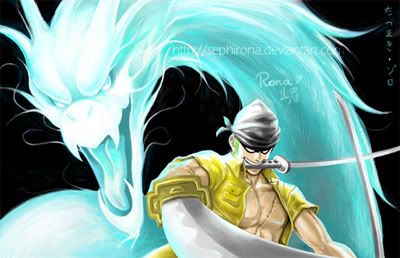 Yamazaru Kaku (click for bigger DA version)


God Enel - W.I.P. (Click for bigger DA version)


Commission by Alina in return for figure&cards ~<3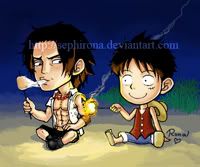 "The Campfire"


"Leopard Lucci" (Ceramic)
Trafalgar Law - W.I.P.
(Click for DA version)

–--------------------------------
Non-One Piece Artwork
(click for bigger DA version)



(click for bigger DA version)


~Rona